Document Management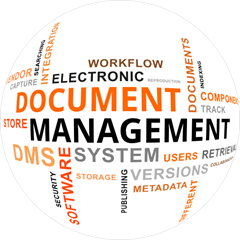 Alfresco is the leading open source alternative for enterprise content management. The open source model allows Alfresco to use best-of-breed open source technologies and contributions from the open source community to get higher quality software produced more quickly at much lower cost. Our goal is to not only provide an open source offering but to surpass commercial offerings in terms of features, functionality and benefits to the user community.
Alfresco is one of the leading ECM platforms in the market. There are more than 2,500 Alfresco instances all around the world, some of them have been tested working with up to 100 millions of documents.
Alfresco is one of the best options to work with documents and other enterprise content. Besides, Alfresco is not only an ECM application, It is also an ECM platform, that means you can develop your own customizations or applications on top of Alfresco.
The Alfresco Enterprise Content Management (ECM) platform is an open, powerful ECM platform that is easy to extend, customize and integrate with your existing applications and processes. The platform provides easy mobile access to content, delivers a simple but rich collaboration user experience and helps customers maximize the value of their content. It is the preferred ECM platform for thousands of customers worldwide.
Partnership:
Long standing Alfresco Gold partner
Expertise in Alfresco 3.0 through to 5.2
Provide all aspects of Alfresco Solution
• Business Requirements,
• Architecture/Design
• Development (Webscripts, Java, Alfresco API)
Build Activiti Workflows
Data Migration Expertise
• Proprietary Data Store
• Sharepoint,
• Documentum,
• Alfresco all versions
Integrating Alfresco with Enterprise applications using
• MuleSoft
• Oracle SOA Suite
Alfresco Features:
• High availability, highly customizable ECM with simplified administration
• Hybrid Cloud ECM with selective content-sync to the included SaaS Alfresco in the Cloud
• Wide range of modules and add-ons including content encryption, records management, analytics and media management
• Organize and consolidate content to improve productivity and regain control of valuable corporate information. Improve marketing collateral, technical drawings, digital assets and legal documents.
• Share information and work effectively with people inside and outside the organization, including partners and customers. Collaborate more effectively on projects, improve partner engagement and improve vendor management.
• Strengthen compliance with seamlessly integrated cradle-to-grave records management. Simplify the content control required to meet government regulations, corporate policies and audit requirements.
• Automate and optimize critical business processes such as invoice processing and expense approvals. Reduce costs and gain new operating efficiencies.
• A standards compliant repository that supports a wide range of features
• Share offers a user friendly interface for managing your content
• Productivity App integration (including Microsoft Office and Google Docs)
• Ability to download and install additional community extensions
• Simple configuration and management of Alfresco sub-system and clustering with reduced restart requirements
• Synchronize content and processes between Alfresco on-premises and the Alfresco in the cloud
• Certified against multiple OS, Database and application servers (including Oracle and Microsoft SQL)
• Simple UI based configuration of clustering
• Create custom content models and bespoke workflows
• Ability to define multiple content stores based on content life cycle requirements
• DOD5015.02 certified Records Management
• Digital Asset management (DAM)
• Content Encryption at rest
• Integrated Analytics and reporting
• Amazon S3 and EMC Centera
• Alfresco Office Transformation Server
• Alfresco Media Transformation Server
• Alfresco Index Server
• Microsoft Outlook add-in