Magnolia 5
Magnolia 5 aims to be the first CMS on the market that is "mobile first".
That means that we have rethought and rewritten how content management should work in our mobile age. One aspect of it is that interaction patterns have been inspired by iOS, i.e. the iPhone and iPad. Another aspect is that the full CMS functionality will be available on the iPad and other tablets. With regard to interaction, our approach to reduce the complexity typically found in enterprise software, and to improve usability, is to use Apps as the building blocks of the CMS.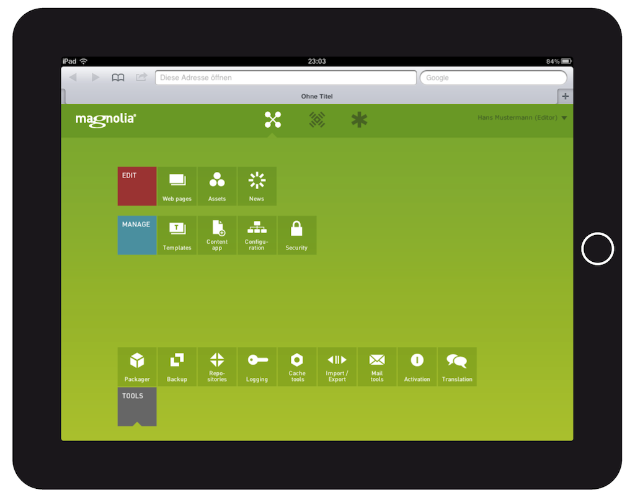 For a start, we provide an Apps Screen that allows you to launch the Apps you have access to. Additional apps can be added via Magnolia's module mechanism. Now, the big questions is why you should use Magnolia to write Apps.
Magnolia really is a UI on a broad set of services – we call them core services. For instance:
– Repository storage
– Publishing / STK
– Scalability
– Security
– Data import
– Caching
– Observation
– Workflow / BPM
… and many more. If you think about it, many of these core services would be really useful when writing Apps for your mobile workforce (we call them Mobile Professionals or MoPros). Certainly the fact that Magnolia solves the provisioning issue is helpful (simply access Magnolia through the web browser of your device, log in, and you have access to all Apps you are allowed to use).
The security aspect is also interesting: Magnolia has user management that integrates with your organization through standards (JAAS) and has field level access controls in place.
Further, if as a MoPro you need to capture data (e.g. you are selling insurance policies), that data certainly should go back into some central form of storage – and we have that, using a standardized repository. If you then wish to publish, enrich or aggregate said data, Magnolia again is your friend.
Now, building these Apps is straightforward. We have defined a specific "content app" class that you can use as the basis for, well, content Apps. Content Apps basically allow you to manage any form of data or content through a standardized UI. All you need to do to create such an App is to define the data type. The UI will be rendered fully automatically.
On a lesser abstraction level, you have full control over your Apps (which means more work for you) but for straightforward Content Apps, Magnolia 5 indeed brings a lot to the table.
Apps can also use workflow (we will use jBPM in Magnolia 5), or use observation to react on any changes to any content.
So once you put all of this together, you probably agree that using a CMS like Magnolia provides excellent benefits to your organization if you want to provide access to corporate data for your mobile professionals. In any case, we fully embrace the mobile age and are excited that we are entering the Mobile App platform space with Magnolia 5.
You can download a developer preview of Magnolia 5, watch the fantastic teaser videos or read the docs on how to write a Magnolia 5 App. We plan to release a Magnolia 5 beta in November, so stay tuned for more.