Visit Website
Alfresco reduces your ECM costs by up to 96% compared to proprietary systems like Documentum, Open Text and SharePoint. It's as simple to use as a shared drive or SharePoint and does not lock you in to a proprietary stack.
Alfresco is the leading open source alternative for enterprise content management. The open source model allows Alfresco to use best-of-breed open source technologies and contributions from the open source community to get higher quality software produced more quickly at much lower cost.
Alfresco's goal is to not only provide an open source offering but to surpass commercial offerings in terms of features, functionality and benefits to the user community. Alfresco is built by a team of leading members from Documentum and Interwoven with 15 years experience in Enterprise Content Management (ECM), including the co-founder of Documentum.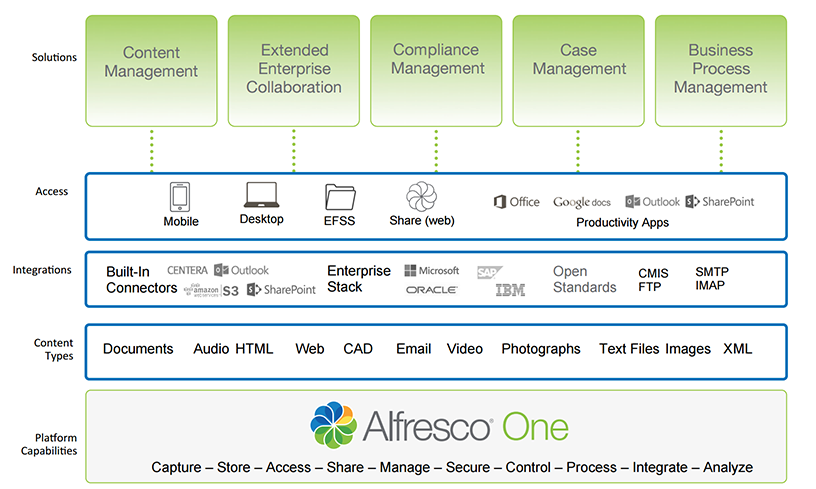 Features
• Alfresco Share Interface
• Collaboration
• Automatic Version Control
• Inline Preview
• Microsoft Office Integration
• Easy as Shared Drive
• Drag & Drop From Email
• Folder Based Rules & Actions
• Powerful Aspects
• Custom Data types
• Workflow
• Transformation Services
• Lightweight Scripts
• Zero footprint client
• Security
• Clustering
• High Availability
• Replication
• JMK Administration
• Standards Driven
• CIFS, IMAP, WebDav
Solution
• Low Cost — A low cost, open source, annual subscription with minimal upfront investment
• Simplicity — Rapid deployment to deliver immediate business value and rapid application development using pre-built components and lightweight scripting
• Choice — Lower Total Cost of Ownership (TCO) by reusing existing hardware, software and skills. Support for open source and open standards means no lock-in to proprietary platforms or file formats.
• Extensible Web Platform
• Localization